TVPOS Digital Signage
Digital Signage is the industry term for electronic out-of-home (OOH) advertising displays, ranging from those little blinking coupon dispensers in the grocery aisle to the dozens of flatscreen monitors in every bar and restaurant, all the way up to the enormous electronic billboards in Las Vegas and popping up along the highways in most cities. Digital signage has many advantages over traditional OOH staples (signs, billboards, banners, and table tents), not the least of which are versatility, visibility, currency, usefulness, and better use of renewable resources (yes, it's "Greener.")
Unless you run a Cracker Barrel, you probably want to convey a tech-savvy image to your guests, and the dynamic appeal of digital signage clearly surpasses the impact of traditional media. Printed signs and table tents are so last-century!
Today's striking HD monitors and advanced multimedia hardware enable attention-grabbing and affordable new marketing opportunities for the small business owner, making a major impact on how, where, when, and to whom you can communicate your marketing message. Why does this matter? Because making effective use of digital signage and web-based distribution of advertising content is a sure way to target, engage, and capture your desired audience. This is one marketing tool that will directly and significantly impact your bottom line.
Multiply the effectiveness of in-house marketing
Television Point of Sales, Inc. is a B2B communication company offering a cost-effective dynamic digital video signage solution that can increase your sales and your customers' satisfaction while introducing and reinforcing your message to viewers already present in your place of business, those most likely and able to make a buying decision on the spot!
Rather than spending thousands of dollars on scattershot traditional TV and print ads, with limited ability to select your audience, you can make more efficient use of your advertising budget by targeting the audience most likely to buy your products and services. It's like having a constantly changing billboard right in your store, advertising special promotions, premium services, featured desserts, happy hour deals... you choose the content.
Inter-activate your message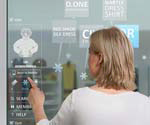 Interactive digital signage is the cool kid on the block. Imagine an iPhone on steroids... a 46" HD monitor that invites your guests to point, pinch, drag, and otherwise interact with the screen. We can create useful and informative "apps" tailored for your business, including interactive maps, photo manipulation, dedicated web pages, even a on-screen keyboard for filling out forms. When it's left alone, the screen can act as a billboard or as an invitation to come play. Its coolness factor alone is off the charts!
Imagine shopping for a new car, visiting a dealer's showroom and "building" your next car right on a big screen: selecting color, trim, options, and even payment plans. Or paging through a series of photos and specs of in-stock autos, dragging your best picks to a folder for later inspection. Send your final selections to a salesperson so she can collect the keys while you pull up the details on each vehicle.
Interactive digital signage is an extremely effective way to engage your customers, encouraging to explore your products and services on their own. When they're done, they can press an on-screen button to summon a salesperson. In any case, they leave your shop impressed and maybe a little more personally invested in your business.
Enter the NEXUS!
TVPOS offers a range of digital signage solutions that can weave the appeal of live video, the impact of multimedia marketing, the WOW of interactivity, and the ease of web-based content distribution into a timely, efficient, and effective package to communicate your message to your guests.
True to its name, the TVPOS Nexus OSD© is a multimedia communications hub, the central component responsible for collecting and presenting the message and information you wish to convey to your patrons. The Nexus, through its web-based On-Screen Display, is capable of driving your High Definition screens with any form of video, banner, or Flash-animated content, leveraging advanced technology for the benefit of your business.
Put your message where it will be the most effective: on the television monitors you already own to showcase your products and services to your best customers: those physically present in your place of business! Think about it... who is most likely to make a purchase right now: a current patron already present in your shop or restaurant, or a merely potential customer tossing back a bag of chips while watching The Simpsons on the couch at home?
Tthe web-based Nexus OSD makes available any number of display zones surrounding or adjacent to the live video feed on your television screens. We emphasize livevideo because most other digital signage companies can only offer "canned" or recorded feeds. Do your customers really want to watch week-old news? Probably not, but hey, we can do that and scheduled video content as well.
You can choose to display HTML web-based source feeds in the space surrounding the video. Anything you can put on a web page can appear on your display screens, surrounding or adjacent to the live video feed. The advertising possibilities are limited only by your imagination! Each of these display areas can receive an independent HTML data stream which can be updated as needed to present timely information to your customers. For example, one zone can offer a scrolling message (a "tickertape") of text and graphics that crawls along the bottom of the screen; a second zone could be a side bar that refreshes its data on a schedule for up-to-date market reports, restaurant specialties, breaking news, etc.; and a third zone could be a title bar which presents banner messages such as your business name, logo, or appropriate animations. Every zone gives you yet another opportunity to make an impression on your clientele.
As you can see in the demo examples, the display screen can be filled with whatever web-based or local information you wish to display, including text of any size or color, color gradient or image backgrounds, animations, tabular data... in short, anything that you can place on a web page can now be displayed on every television in your place of business.
Plus, we can create a "widget" to display any sort of information you'd like to present to your guests, and even tie into your other automated systems. For example, an automotive service shop can update customer repair status, a truck stop can list open shower stalls, a restaurant can update a carryout order status board or seating waitlist. You could update a scrolling banner with birthday greetings for that a personal touch of customer service. The creative possibilities are endless!
Now, isn't this a better way to use those TV screens?
Please visit our Product Demo page.
Show Me!
The play quality of these demos depends on the speed of your broadband connection. Note that you can adjust the size of these HD demos by zooming out from within your browser using:

Menu: View/Zoom/Zoom Out
Ctrl- [Ctrl-minus] keys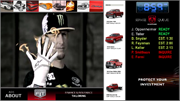 View live HD Auto Dealer demo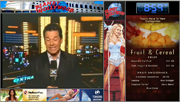 View live HD Restaurant demo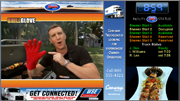 View live HD Truck Stop demo